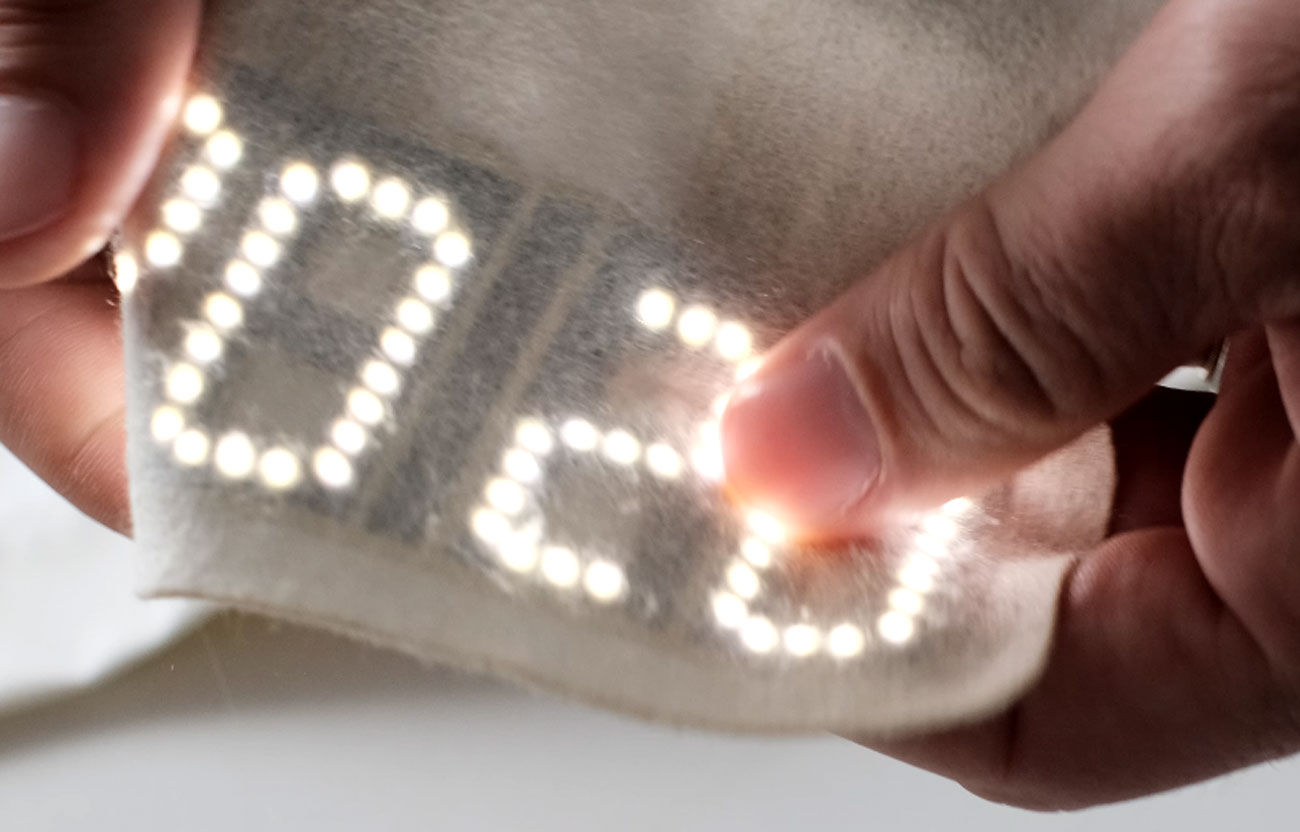 Textile-integrated Electronic Systems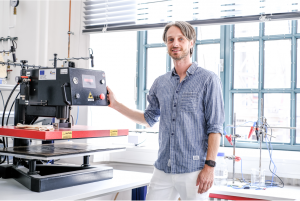 Textiles are an indispensable part of our everyday life. They are not limited to clothing made of fabric, knits and fleece, but also include technical textiles and composite materials. They withstand extreme stresses during washing and have many different functions while being light and highly flexible.
By integrating electronic components, textiles can be enhanced with many different functions such as sensors and lighting. This enables completely new application areas for textiles in an innovative and fast-growing market. Fraunhofer IZM's research group System-on-Flex has been developing, analyzing and qualifying textile-based electronic systems for over twenty years. A main focus is innovative interconnection technologies for textile and stretchable substrates. Functionality and reliability requirements are always determined by the application in question. The Fraunhofer IZM laboratory for electronics in textiles (TexLab) and diverse equipment for microelectronics assembly and analysis provide the best preconditions for research and development.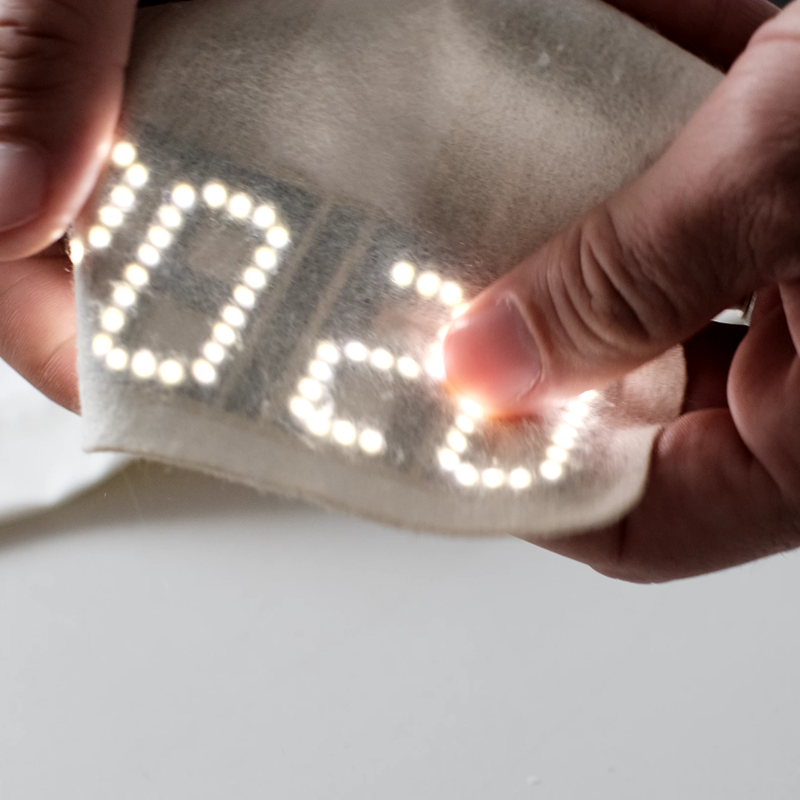 The wide variety of electronic textiles available is matched only by the many possible applications, including in the fashion sector, to medical engineering, security and logistics, through to the lighting and construction sectors:
Sensors integrated into clothing as part of personal safety applications
Large-area fabric with integrated sensors for alarm systems
Lighting and displays on and in fabric
Textile wireless sensor nodes
Sensors in fiber-reinforced composite materials for condition monitoring
Textile RFID transponders for logistic
Interactive evening dress and activewear
Anti-theft and anti-fraud protection in clothing and textile accessories
Occupancy sensors for vehicle seats
We apply microelectronic processes, such as low-temperature soldering, gluing with conductive and non-conductive adhesives and non-heat based joining such as force fitting and crimping. One simple but extremely robust technique that also meets high reliability requirements is gluing using non-conductive thermoplastic adhesives.
Fraunhofer IZM also investigated electrical bonding by stitching in depth.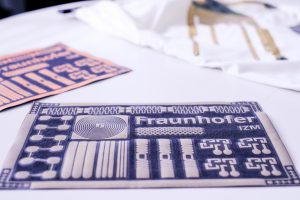 An alternative is offered by flexible electronic systems based on polyurethane substrates, which can be laminated onto textile substrates using conventional processes. Apart from the bonding technique, system reliability is determined by the encapsulation technology, and here the institute develops processes for liquid encapsulation and transfer and hot melt molding.
Reliability is another key issue. All systems are validated in-house according to industrial norms for parameters such as temperature, humidity, washing.
Fraunhofer IZM works with a pneumatic Lotus heat press LTS 575 because of it's unique pressing power of up to 8 bar.
Fraunhofer-Institut für Zuverlässigkeit und Mikrointegration IZM
Dipl. Ing. (FH) Christian Dils, christian.dils@izm.fraunhofer.de
Gustav-Meyer-Allee 25, 13355 Berlin
Eu mea audiam equidem, has ad dolore officiis. No zril solet minimum sit. Ea sensibus mei omittantur. Nulla in impetus voluptaria est in, et suas mollis est propriae. Doming vidiss eum no malorum. Eripuit legimus ut corpora per vis in intellegam, ut ius esse tritani lucilius. Usu audiam id malorum imperdiet. Ut nisl signiferumqum el, rebum his omittam ei. An nec commune veritus deterruisset, ius verear cum, mea et vidit erat vulputate. Suscipit posidoniuum eos ut. Eu his purto fierent consulatu.
His ut quas exerci lucilius, an sed nullam labitur, cu tempor sapientem eam. Per cibo populo an, dicunt aeterno ut. Nominati cu sumo at eam pertinacia, in vix maiestatis praesent mazim. Ridens ponderum ius et. Affert delicat quidam vivendo, meliore duo ne, euripidis persius vim blandit efficiendi ad. Ex vix putent legendos quaerendum duo, mea sint dicta dissentiet at, est ad vitae.
Our clients describe us as a product team which creates
amazing UI/UX, by crafting top-notch user experience.
Mel id enim sint expetendis. In amet causae delectus sit, est timeam dissentias et. Nonumy e singulis invenire quo. Eam ei purto tacimates delicata, lorem veritus his ut, signiferumque, putant apeirian pro interesset pro et. Ullum nonumy eruditi ponderum. Duo albucius cum ei, eos congue discere pericula eu. Per dico vero in, mei omnius et bonorum tibique. Per cu percipitur, porro affert vis id. Sumo dicto nusquam no nam, ius id maiorum omnesque assentior. Vim delectus ea laboramus. At scaevola tempo indoctum petentium nam. In esse laboramus definitionem sea. Te vel dictas audiam.
Saperet probatus hendrerit ad eum. Qui autem augue tamquam ne, ne veri iracundia constituto eum. Sit utroque etiam id, quo debitis fabellas recteque an impetus suas voluptaria mollis.