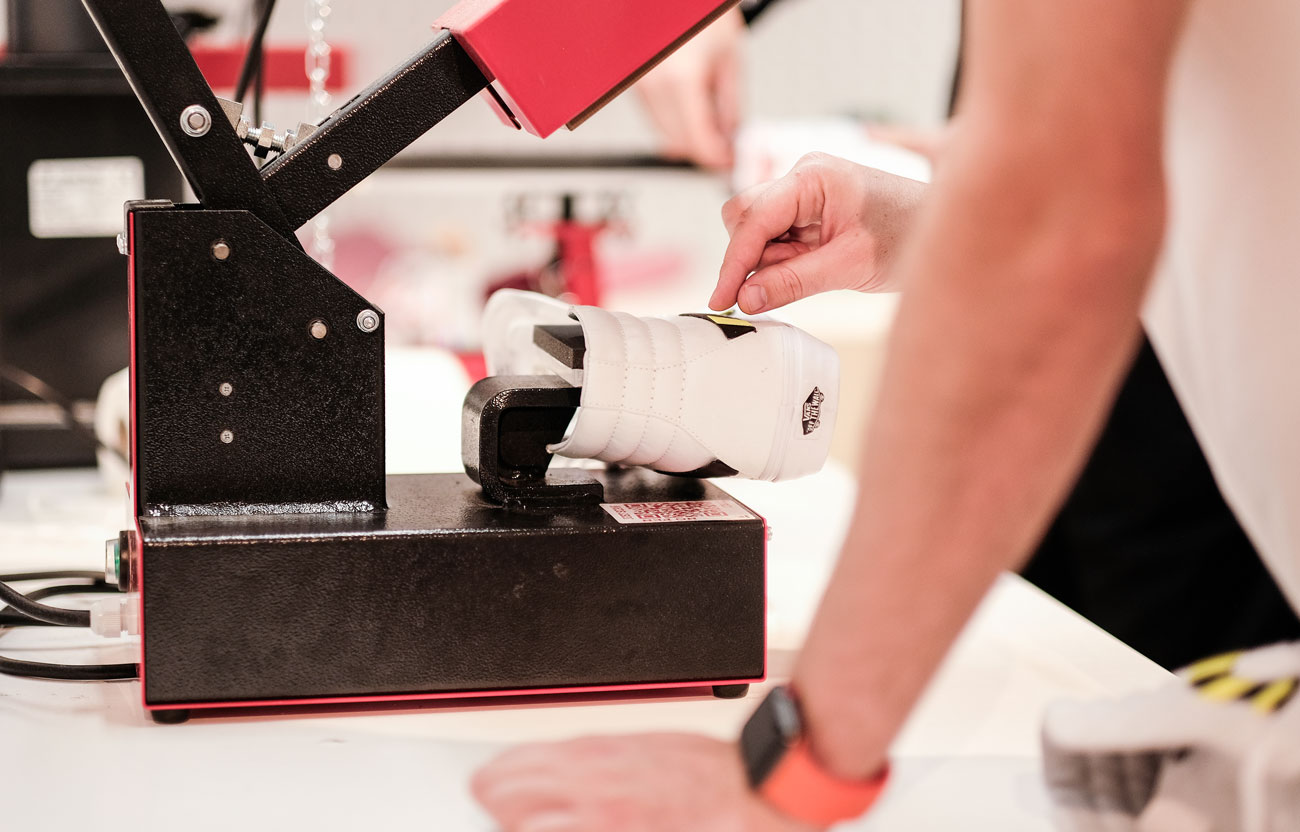 How to choose the right Heat Press?
As a designer, graphic technician or textile printer, you may spend several hours a day at a heat press. Sooner or later, you may ask yourself whether the transfer process can be made even more efficient or convenient.
With this in mind, heat press manufacturers, such as the Milan-based Lotus, have come up with any conceivable solution and configurations in order to offer every user the heat transfer press that best suits his or her requirements.
The fact that high-quality textile printing results can be achieved very favourably with the heat transfer printing process has led to this finishing process becoming very well established. Heat presses are the most important tool for transferring logos, graphics, images and lettering onto textiles. But not only that. In addition to textiles, heat presses can of course also be used to print photos on solid media such as key rings, glass coasters or aluminium dibond panels and much more.
The heat press is therefore a central and very versatile tool that is at the heart of numerous production processes. But which heat press is the right one for me? In this article we would like to offer some guidance and highlight the most important criteria when buying a heat press.
How much do I want to invest?
Basically, an investment should be in a healthy relationship to the available funds and the expected income. However, considerations such as how long and intensively a press is to be used, how important flexibility, quality, safety, ease of operation and support are rated, and whether and how quickly spare parts are available also play an important role. For some, the issue of sustainability or even social aspects may also play a role. The more weight is attached to the latter points, the more a press will cost and also be worth.
Clam press versus swivelling press
Basically, we distinguish between two different opening types of heat presses: vertically opening (like the LTS 138) and horizontally pivoting (like the LTS 138 b) presses. Vertically opening presses offer the advantage of faster operation due to the shorter functional travel (folding instead of swivelling). In addition, the space requirement is lower because no room is needed for lateral swivelling, as is the case with a swing press. A disadvantage is that the textiles cannot be positioned very ergonomically on the printing plate, as is the case with a swivel press whose heating plate can be swivelled away beyond the printing surface.
Experience has shown that beginners find it easier to work with a swing press than with a clam press. In addition, a swivel press reduces the risk of accidentally touching the heating surface.
What pressure size is required?
Another important basic criterion when buying a press is the size of the printing plate.
For exclusively small-format printing and labelling on breast pockets, smaller manual presses with a squarish printing area of approx. 12 x 13 cm (for example, the LTS 12) are usually sufficient.
If you also want to print on T-shirts or jackets, you should consider buying a larger press. Very popular are presses that have at least a printing area in the size of DIN A3, e.g. 38 x 45 cm or 40 x 50 cm. Larger areas are preferred by sports team outfitters.
For large-format printing on hockey shirts or even flags, presses are built in even larger formats. Due to the larger print areas, other construction methods are required here, which are more expensive to implement than with smaller formats. One advantage of presses with a larger print area is that formats from small to large can be printed. Above a certain print format, for larger print runs or for applications that require a higher contact pressure, the pneumatic models show their advantages. However, they also require more space than manual models and, in addition, a compressor for the supply of compressed air.
Fixed or interchangeable plates?
If a constant motif size is used, for example a motif for breast pockets, a press with a permanently installed, small, square printing plate – for example the LTS 12 – is usually sufficient. If transfers of different sizes are to be printed on textiles of different sizes, it is advisable to choose a press with exchangeable printing plates. A basic principle in the heat transfer process is that the size of the printing plates should be adapted to the transfer size as best as possible. On the one hand, this protects button tapes, zips and seams of the textiles to be printed from unnecessary transfer heat and pressure. On the other hand, this prevents overstretching of the textiles and transfers when stretching the textiles.
In order to protect the textiles and work more comfortably and faster you may consider investing in a "flexible heat press" with exchangeable printing plates. In this case you may also take advantage of using an interchangeble cap set.
With "interchangeable presses", make sure that the pressure plates and cap set can be exchanged quickly and easily. The quickest way to do this is to use handdriven-screws to fix the printing plates, as Lotus offers it.
Can I only print on textiles with transfer presses?
With heat transfer technology you can not only print on textiles such as baseball caps, t-shirts, sleeves, trousers, jackets, masks etc., but also on aluminium and magnetic boards, wood, special puzzles, mouse pads and many other hard substrates.
How important is even heat?
An even, all-over, constant working temperature is absolutely essential for a good and safe transfer. If the heating plate does not heat evenly, poor transfer results must be expected. Available on the market are presses with heating coil technology and those that work with individual heating rod elements (Mikanit technology). Presses with mikanite technology heat up faster because each heating element is individually controlled when the press is switched on. These heating elements can also be replaced individually. This makes this solution even more sustainable. Check out, if an extra warranty on the heating rods is offered, as Lotus does it for 10 years! Lotus heat presses themselfes are covered with a 2 years warranty.
You should check at regular intervals whether the actual temperature on the heating surface still corresponds to the temperature indicated on the display. Special temperature measuring strips are available for this purpose, which you simply stick on the print surface and press along. They indicate the temperature range reached and provide reliable test results that enable the user to take action if necessary.
How important is precise press measurement technology?
The more precise the measurement technology, the more reliably it can be transferred. The most reliable heat presses are those with precise electronic control and digital display for transfer time and temperature.
Avoid devices that only provide periodic readings and are therefore imprecise.
Why is a precise uniform pressure so important?
Besides a precise and constant transfer temperature, an equal pressure is important for a good transfer. Only choose devices that offer a solid printing arm and absolutely flat printing plates with a dimensionally stable silicone rubber support. Inferior printing plates often warp in the course of time and impair the transfer result just as much as inferior silicone mats that quickly lose their shape and resilience.
When using manual heat presses, also make sure that you exert a favourable leverage effect during the "pressing process". Otherwise, you will quickly get a "long" arm from pressing. You can also avoid this by using pneumatic presses.
Can the textiles be easily replaced?
The textiles to be printed should be easy to replace without the user running the risk of burning his hands or damaging the shirt. Therefore, the following criteria should be considered when purchasing:
Does the press offer a large opening angle?
Can the pressure shoe be moved forwards or backwards?
In the case of presses that can be swiveled to the side, the heating plate should swivel as far to the side that the printing plate is completely free in order to be able to optimally apply the textiles.
It is also important that T-shirts can be comfortably mounted on a printing plate that is as free-standing as possible. This allows the front and back of the textile to be printed differently without compromising the transfer result. With fixed printing plates, you can usually not pull the T-shirts on, but only lay them on. This causes wrinkles to form on the T-shirt more quickly, and two-sided prints are problematic.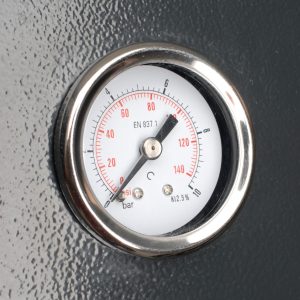 How important is a visual pressure indicator on pneumatic presses?
Pneumatic presses should always have a pressure display (see illustration). It facilitates exact settings that can be defined for different jobs. These can then also be carried out more easily by different users.
CE marking is not a certificate
The EU requires all European manufacturers and companies importing transfer presses from outside Europe, for example, to comply with certain safety regulations. The corresponding conformity is proven by the companies with the CE marking. Keep in mind that the suppliers prove the conformity themselves. This is therefore not an independent certificate, such as a TÜV seal. In fact, not every device is equally safe. So it's best to see for yourself whether the press you want actually meets German safety standards, and ask your dealer if you're unsure.
What do you have to consider with cap presses?
It is important to note that when transferring, the heating plate and the cap face on the pressure plate are really perfectly aligned and the entire surface is supplied with the same heat. Due to the different heights of the end faces, depending on the cap type, this can only be ensured if the pressure shoe on which the cap is clamped can be flexibly adjusted forwards and backwards. This flexibility should also be taken into account in cap sets for interchangeable presses.
Manual presses are devices in which the transfer process is initiated or terminated by lowering or opening the hot platen by hand. The transfer time is entered manually on the control panel beforehand and the time of unlocking is indicated by a visual or acoustic signal. Manual presses are particularly useful for beginners and therefore for short to medium runs. They are less expensive to buy and still allow professional work. Your productivity can be further optimized if you use a manual press with two worktables, such as the LTS 238. While one textile is being printed, the operator can already mount the second.
Semiautomatic Heat Presses
Working with semi-automatic presses is more comfortable than working with manual presses. Although the heating plate must be lowered manually onto the printing surface, it then opens automatically (thanks to an electromagnet) and on some models (LTS 138 Slide + LTS 150 Slide) even swings to the side automatically. This means that the operator does not have to use muscle power to open and swivel the press compared to a manual press. This is ideal for retail stores where the operator cannot stand by the press for the entire transfer time, but may want to attend to an incoming customer immediately.
At the same time, a semi-automatic solution eliminates the need to purchase a compressor, as would be required with pneumatic equipment. Semi-automatic opening is almost silent. Semi-automatic presses are also suitable for short to medium runs. Your productivity can be further optimized by using a semi-automatic press, such as the LTS 238 SA, with two worktables. While one textile is being printed, the operator can already mount the second.
Pneumatic presses are even more convenient and efficient. They achieve a very high contact pressure. The pressing process is started by pressing a button. When the timer expires, the press opens automatically without the operator having to pay attention. A higher contact pressure is particularly important for large-area transfers or for certain sublimation prints where manual pressure is no longer sufficient. Pneumatic presses are particularly useful for long runs where the use of manual presses would be too forceful. Pneumatic Lotus presses operate at a pressure of 2.5 to 8 bar. A compressor is required for operation. Your productivity can be further optimized by using a pneumatic press with two worktables (such as the LTS 750). While one textile is being printed, the operator can already mount the second.
Lotus presses with patented and innovative membrane technology are suitable for particularly demanding applications in the large-format sector. A rubber diaphragm that can be filled with compressed air ensures uniform pressure build-up and particularly accurate, even distribution of pressure, even with printing media of different heights. Unlike conventional pneumatic presses, the pressure on the diaphragm presses can be regulated in minimum increments of 0.1 bar from as little as 0.1 to 4.5 bar (4.5 bar corresponds here to 8 bar on a conventional pneumatic press). The press is operated via a clear touch screen. The hot platen is locked at the push of a button, and unlocked automatically after the previously set time. This press is also frequently used for fixing electronic components. We will gladly adapt these presses to your special requirements.
Large Format Heat Presses
Large format presses are available from Lotus in semi-automatic and pneumatic design or as membrane press (see previous category). Semi-automatic presses are often used for fusing or converting. Pneumatic large-format presses, on the other hand, are more likely to be found in sublimation processes on textiles or hard substrates such as aluminum Dibond plates (like Chromaluxe, etc.). Pneumatic presses are more convenient and efficient compared to semi-automatic ones. They achieve a very high contact pressure. The printing process is started by pressing a button. When the timer expires, the press opens automatically without the operator having to pay attention. A higher contact pressure is particularly important for large-area transfers or for certain sublimation prints. A compressor is required for operation. Here, too, a model with 2 printing strokes is available, e.g. as LTS 518. While one object is being printed, the operator can already prepare the second for printing. Lower heating plates are also available on request, also in combination with an upper heating plate.
Did you know that Lotus offers custom press fabrications? Feel free to let us know what special requirements your project entails. We will be happy to see how we can help you and work out a proposal.
For example, since 2020, we have been manufacturing special presses for 3D molding of antibacterial protective masks. In addition, we produce special designs for the use of textile-integrated electronic systems (smart textiles) for applications in sports as well as the medical field. We also develop solutions for the personalization of special sublimation products.